Are you one of the few who have been up in my loft, into my master suite and even seen my closet? Then, you are one of the few who have come to truly understand my fascination (obsession, really - I'm not afraid to admit it) with shoes. Here's a glimpse at my collection (which is never complete, by the way):

Ok, ok. So, it might be a bit of a problem....but what a lovely problem to have!!
Today, I want to talk about that perfect shoe for that perfect outfit. Do you fuss over your shoes and whether they look right with the jeans, skirt or shorts you're wearing that day? If not, good for you!
(*rolls eyes*)
. But if you're like me and enjoy the hunt for that perfect shoe to flatter not only the outfit you wear, but your gams and pulls your whole look together, then this is the post for you. Even if shoes aren't you're thing, I'll be talking about finding a good comfy shoe, that won't give off a frumpy-vibe to passersby.
For today, let's just focus on all these jeans and pants you've got floating around in your closet. Most cuts of women's jeans fall into one of four categories: Skinny, Flared, Bootcut, and Straight Leg.
Skinny:
You can get away with a lot of different styles of shoes with these. That is, if you're confident wnough to wear the skinny jean. My personal favorite is tucking them inside boots because there's no fighting with them throughout the day.
Secondly, ballerina flats are great with these. Plus, if they fit well, they are super comfortable. However, if you get a pair that's too tight, you'll be counting the minutes until you can take those bad boys off! A word of warning, if you have bunyuns or corns, ballerina flats are not for you. You'll be miserable.
Another great shoe to wear with skinny's is the classic pump.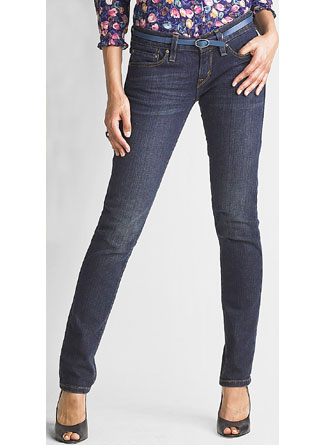 Now, what NOT to wear with skinny jeans:
The wedge:
I can't pinpoint it, but every time I go to put on my wedge Toms (which I love because they are so comfy!), with my skinny jeans, I always end up switching shoes. I feel like instead of making my legs look longer (like pumps naturally do), they make them look like I'm trying to mask cankles or something. They add weight to our legs, ladies by making our feet look too clunky and chunky! It's just not flattering.
Also, flip flops are NOT. OK. In fact, it's tacky-looking.
Definitely not flattering to her legs in any way, shape or form.
Flare jeans:
Flared jeans are generally more fitted through the thigh area, then flare out below the knee, making your thighs look thinner. These are the easiest to pair shoes with if you find the right fit and length in the jeans.
The goal with this particular cut of denim is to give the illusion of longer legs. Wearing flats with these is going ot defeat that purpose. You want to buy a pair that hits the floor when you're standing barefoot. Then, pair these jeans with any shoe with a heel about 3-5" tall. The shoes will be hidden under the jeans and just your little toesies will peep out giving the illusion that you're 4" taller and have gams like a Boss!
What NOT to wear with Flare Jeans: flats, sandals, sneakers, flip-flops. You get the idea...
Bootcut:
These jeans have a slightly narrower opening at the bottom but they're not quite flared enough to be considered flare jeans. They are meant to be worn with, as the name implies, boots. When you try them on, they should fall right at the top of your foot. Unlike the flare jeans, you want a tad bit more of your shoe peeping out with these.
Cowboy boots, ankle boots, mid-calf boots all work well under these pants. The only boots that would not would be thigh-highs. That kinda defeats the purpose of the thigh-high boot, wouldn't you say?
The good thing about bootcut is you can wear just about any shoe with these. It's really just an idea of preference. Tennis shoes look great, sandals (yes, even a flip flop), pumps and flats.
Here they are on Jessica Alba and she's rockin' them with a pair of converse!
Straight Leg:
These are one cut from the hip to the ankle, straight and are awfully similiar to the "boyfriend' jean which are somewhat baggier all around but still straight legged. I'll combine them both here.
Boyfriend:
Here they are on different celebrities and worn a variety of ways. I like the boyfriend cut for this reason!
Both of these styles can get away with being paired with most any shoe. You really can't go wrong.
My favorite is, of course, the heel. It' just classy looking. But if you're going for a casual feel a particular day, don't hesistate to throw on some flats or converse with them. No one will look at you funny, trust me.
Now, that perfect shoe.
I know the one you want.
You want it to be dressed up or down.
You want it to go with your jeans as well as your church dress.
You want it to be confortable and not try to kill you during the day.
I understand. Believe me, I get it.
And I've found it for you.
The Kitten Heel! It's perfect. It's a heel (but not a murderous one), but it's also not so high off the ground (1.5" - 2" tops!) so that it feels like a flat. Buy them in different prints or in a classic black or nude color. You'll have a shoe that can go with you to the grocery store or to church.